How is it today ?
'For the times they are a-changing'
Being a IT Managed service provider with own hosted services has been a phenomenal business model for many years. The concept was easy: You built a data center in your own building or rented colocation space elsewhere, and then you bought hardware and expanded as needed. It was a simple way to earn good money when you did it right with a structured, industrial approach. It required skills in selecting the right hardware, ensuring a long lifetime of capital investments, managing backup, availability and other deep infrastructure processes.
But times are a changing! A shift in technology has disrupted this Business Model.
How does the future look like?
Grim or just different
With the adoption of mega scale cloud computing provided by Microsoft, Amazon Web Services (AWS) and Google, many local hoster's are becoming obsolete and losing their customers. For the workplace applications this shift as largely already happened – most SME and enterprises are already on O365. The shift towards the mega clouds has been happening for some time, and will only accelerate over the coming years. Some geographically focused hoster's will still be able to make a decent living for years to come, but the years are countable. They may feel protected and think they can hold on to their local hosting, but the trend will be like the Exchange Hosting – all going to the cloud. It's not wise to fight the move to the mega cloud, but see how you can embed and utilize the Mega clouds and maybe make a Hybrid as a transition.
The IT Hoster Digital Transformation model
Multiple changes at the same time is a challenge
While there are best practices for approaching digital transformation for end-user companies – as this has been done hundreds of thousands of times and it's mostly a technical challenge. For hosters, a documented approach is practically non-existing and it lies in the fact that this is really complicated as you are not only transforming technology – but there is a change in 3 major areas
Business model

, current financial models does not hold true anymore

Technical setup

, the setup is very different from your current on-premise

Standard Operational Procedures

, new and improved are required to become effective
The business model change is probably the most challenging – whether you host on your own datacenter, or you have servers in a co-location you have the CAPEX cost you need to amortize, they need patching and monitoring for which you have personnel – with a large cloud provider delivering the services (Exchange, CRM, SharePoint, Virtual desktops, Virtual servers, Dockers and containers – you have no CAPEX, you have no requirements for Monitoring infrastructure, backup is a service so you need a different focus for your personnel, a move to the cloud service provider model is changing your business in major ways.
What you want to achieve is a continuous improvement, a progression of your cloud capabilities and offering as seen on our Model below.
Maturity Journey
Important Elements for the cloud journey
On which level are your Hoster services and what do they bring for you and your customers? Do you have your services in the right place on the maturity journey and are they in sync with each other? Can levels be skipped, or must they be climbed step by step? At which level would our customers ideally want us to be? How big is the effort required to get from today's level to the desired outcome?
These insightful questions help to clearly identify your actual initial situation and the role you want to play in future. Our maturity journey checklist helps to understand where you are and if your services are at the right level.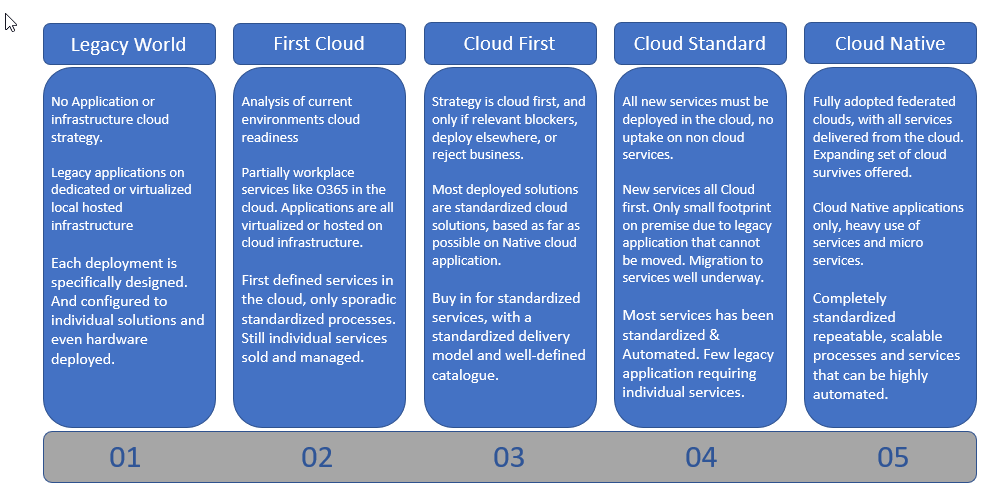 How to attach the challenge
Think and then act
Before you start changing anything on the technology there is important work to be done on the flipchart. Thinking through and visualizing the transformation before you actually do it, start with understanding in depth your current model and operations, and then envision your journey. We have listed a few of the questions and considerations we would discuss in a flipchart session.
Understanding your predominant business model and where you are now

Understand the revenue streams in the current models, and cost in detail.

Understanding where you want to take your business

Know your strengths, determine your differentiated value

Understand your current customers' desire and ability to move to Mega Cloud hosting

Understand additional services your customers could use from the Mega cloud

Productize your offerings and create solutions that are reproducible (operational leverage)

Current staff, skills and willingness to move with you

Is the staff capacity right for the new model

In the transition of invoicing model can we manage the cashflow,

Sales and sales activity transformation

Creation of a new product suite- what services can and do I want to deliver

What are the contractual obligation we have with Vendors and Co-Location hosters?

Service delivery model- create a service delivery model to support your new services suite?

Marketing/demand gen- how do you market your services and create demand?

A story to tell. What is your unique story that you want to tell the market?
Technical Setup
How to get to the right technical setup
Once you know where you are today and where you want to go, it is time to look at the technical side of things. Generally, this is an easier task than the challenge in the business model, but it also has its pitfalls
Our model suggests looking at the following points:
Deep Analysis of the actual current environment understand every corner

Uncover the dependencies (Versions, Applications)

Create a detailed Service Mapping

Service and customer

Service and technology

Understand the hard-and software lifecycle

Define with what to start

Start gradually and grow over time

Bringing it all together
Getting efficient
Introduce and improve Standard Operational Procedures
Constant improvement of Standard Operational Procedures will give you a competitive edge as most steps can be done by generalists that follow the SOP or even better can be automated. Areas where SOP's can be of great value.
Service Desk support

Monitoring

Billing process

Cost management

Performance

Service Agreement incl. SLA Management
Many of these can be Automated, whether you have already moved some of your offered services to the Mega Clouds, you can benefit from Automation – take a look at our Automation home.
Where and how to start
Get the right start, engaging the right partner
You have been supporting your, customers, for years in their digital transformation – embracing new technology and new offerings is a natural part of the progression. The important part is to be aware that you need to do this in a structured and planned fashion as it's a big move for both you and your customers, but it enables many new ways of doing business.
NUDGEIT can help you get on your digital transformation journey, on all 3 main topics (Business Model, Technical Setup, Standard Operational Procedures) with our IT Hoster Digital Transformation Model. Let's get the first discussion done sooner rather than later.
Don't wait! Let's do it together!
You want to get started on a transformation journey, taking your hosting and service providing business to the next level, then engage with us, explore the options, ensure you get a plan in place and avoid the mistakes others have done - let's have a chat